I am linking up again with Mommy & Me Creations for the "All About Hoo? You, That's Who" linky party. This has been so fun getting to know other bloggers! Here is the blog button in case you want to get in on the fun, too!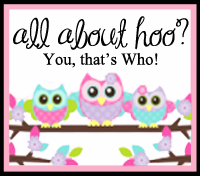 1) What is your favorite color?
My favorite color is orange.
2) What is your favorite food?
My favorite food is anything Mexican...I could eat it everyday! YUM!
3)What is your favorite T.V. show?
My favorite TV shows are Once Upon A Time & 2 Broke Girls.
4) Do you have a lucky number? And if so, what is it?
My lucky numbers are 8 &12
So, there you have it! Link up & join the fun!!